The following article is published with the kind permission of the author George Wilson,  Hertfordshire Constabulary Great War Society and Dr. F.R.J. Newman PhD - editor of Trench Foot Notes.
LIEUTENANT CYRIL GEORGE EDWARDS
FIRST BRITISH OFFICER TO UNDERGO BLOOD TRANSFUSION IN A FRONT-LINE HOSPITAL

by George Wilson
One of the most important lessons learnt by Great Britain and France during the Crimean War (1854-1856) was the abysmal facilities provided for injured soldiers, in particular their early removal from the battlefield, and treatment in military hospitals.  War correspondents from British and Empire newspapers using telegraphic communications ensured both government and the public were quickly aware of the deficiencies in providing adequate medical services. As a result medical treatment of injured soldiers had improved considerably by the time Great Britain became embroiled in the Second Boer War (1899-1902).
With the despatch of the BEF to the Western Front on the outbreak of the Great War, they were accompanied and supported by the RAMC.  At this time no statesmen, politicians, military leaders, or the general public had any conception that the conflict would last four years, be fought on a global scale resulting in casualties estimated to be between 9 and 12 million.
The use of new weapons, for example powerful artillery, trench mortars and the ubiquitous
machine gun resulted in horrific injuries on an unprecedented scale.  This required not only a rapid increase in medical personnel, but a requirement for medical innovations. The scale and severity of injuries caused by trench warfare pushed forward these developments.  Blood transfusions, along with other treatments like facial reconstructive surgery are two examples, which are still in regular use for treating wounded personnel severely injured in Afghanistan.
Cyril George Edwards was born on 21st April 1893 in Holborn, London. His parents were George and Sarah Louise; he had two younger brothers Harry and Donald.  They lived above the family business at 62 Marchmont Street near St Pancras.  By 1911 he and his brothers had joined the family business.
Edwards volunteered for military service by joining the Territorial Army - 28th Battalion London Regiment (Artists Rifles); his service record shows him taking the oath of allegiance before a local magistrate on 29th October 1915.  He successfully applied for a commission and following training as an officer cadet at How Hill Camp, Romford, was appointed 2nd lieutenant in the 2/7th Prince of Wales Own (West Yorkshire Regiment) on 9th July 1916. His two brothers also served in the army – Harry in the same regiment, whilst Donald joined the Royal Engineers.
Nearly a year elapsed before he saw active service due to an accident in his barracks. He appeared before a medical board on 6th October 1916, which recorded he had slipped over on an uneven tiled floor resulting in his left hand going through a pane of glass in a window damaging a tendon.  Edwards was placed on sick leave and appeared before three further medical boards before being declared fully fit. 
He arrived in France on 5th May 1917 and after a short period at Etaples Base Camp, joined his unit at Ervilliers near Bullecourt; his brother Harry (a captain) was already serving with the Battalion.
Lieut Edwards became a bombing officer, where his aptitude for this specialist duty including being attached as an instructor at the Brigade bombing school. He returned to his Battalion on 4th July, which was still fighting around Bullecourt; this area had seen intense fighting over the previous year, as it lay between both the Somme and Arras battlefields.
As a junior officer he was tasked with leading a reconnaissance patrol on 28th July accompanied by a NCO, during which he was severely wounded in no-man's land when the pair came under grenade attack.   Edward's reactions to the incident were acknowledged by the award of a DSO – initially reported in the London Gazette on 26th September 1917, with the Citation published in the Supplement to the London Gazette on 9th January 1918 (page 562). It reads: "For conspicuous gallantry and devotion to duty. Having gone out with an N.C.O to reconnoitre the enemy's wire, they were attacked by bombs.  The first one he seized and threw back before it exploded, and when the second fell, realising they could not escape unharmed, he threw his legs over it to smother the explosion, and thus protected the N.C.O.  By this splendid act of gallantry and self-sacrifice he saved the life of his comrade at the expense of his own.  The N.C.O. was able to drag him back to our lines, where he showed great pluck in reporting the information which he had gained by his daring reconnaissance"
However he was far more seriously injured than his resolve suggested, suffering such severe bleeding that when he arrived at the front line hospital, his heart had almost stopped.
Fortunately, the badly wounded officer came under the care of Arthur Rendle Short, who had been studying remedies for surgical shock. Short, a doctor interested in early experimental blood transfusions that had been conducted at base hospitals, quickly realised he needed to improvise.  Despite there being little research on blood groups and incompatibilities, or blood banks, he selected a donor, bringing him alongside Edwards and cutting into both men's arms, transferring blood using a tube and needles. 
Miraculously, this crude method worked, and Edwards pulse strengthed significantly. When his condition stabilised, surgeons were able to amputate his wounded leg. Two weeks later his brother Captain Harry Edwards, heard that Cyril had survived the pioneering new treatment and wrote to Rendle Short thanking him.  The surgeon replied: It is one's principal joy in life, almost, to see patients one cares about get better".
Around the time that Lieut Edwards received the life-saving transfusion, the British began to introduce the treatment for routine use. But the doctors and surgeons realised the technique had limitations, as blood had to be taken from the nearest person.  The problem was overcome, when Captain Oswald Robinson in 1917, discovered that by mixing blood with sodium citrate it would prevent it congealing, enabling it to be stored.
When he was fit enough to be moved, Edwards was taken to the Red Cross Hospital at Rouen, before returning to Great Britain on 5th September.  Whilst at Rouen he was informed that for his bravery he was awarded the DSO. Probably more pleasing was the multiple congratulatory letters from his men wishing him a swift recovery.
On his arrival Edwards was admitted to Endsleigh Palace Hospital in Gordon Street, London, followed by convalescence in various other military hospitals.  As part of the army's attempt to rehabilitate wounded servicemen, those who lost limbs were offered the opportunity to be fitted with a prosthetic leg: some declined the opportunity preferring mobility by using crutches.  Once strong enough he returned to a London military hospital for officers and accepted the offer of a prosthetic leg.  It is said he watched the leg being made for him at 'Rowley's "Leg Shop"'.  Rowley were an American firm commissioned by the War Office to set up prosthetic limb outlets in London and other towns.
Cyril Edward's service record at the National Archives shows he was discharged from HM Forces on 6th May 1919 with a medical classification of category 11. His address at this time was 38 London Road, Tunbridge Wells.  After his discharge he rejoined the family business at a shop in Bloomsbury; in 1943 he took over the management.  In 1920 he married his sweetheart, Alice Adela Aida De Braga, to whom he had been very close before going to France in 1917.  He died in Eastbourne, Sussex, aged 85 in September 1978.
Despite losing his leg Cyril George Edwards remained upbeat, and did his best during his sojourn in a number of different military hospitals to care for and encourage other severely injured servicemen (during the conflict there were British 240,000 soldiers who became amputees). He was just one of thousands of predominately brave young officers who died or were severely injured during the Great War, often whilst 'leading from the front'.
Field Marshal Douglas Haig is still vilified by some military historians and often ill-informed members of the public, who regard him as an inept leader, who callously squandered the lives of those who served under him. No one would argue that he made costly mistakes, but during the last few decades, other historians have provided a more fair assessment of his abilities and leadership.
 His appreciation of the vital importance played by British medical services should not be under estimated.  This can be succinctly described:  "Trust in medical facilities plays an important role in maintaining soldiers' morale, and effective medical services, returning as many wounded as possible to action as soon as possible, was an essential part of Haig's attritional strategy. Typically Haig took a close interest in medical matters and proved very supportive of his senior medical staff as they carried out radical changes in response to the lessons learned in the first years of the war. The importance of such institutional 'top cover' to military reformers should not be underestimated".[1]
I have no doubt that Cyril George Edwards would endorse these sentiments, together with Haig's purely altruistic support for the formation of the Royal British Legion.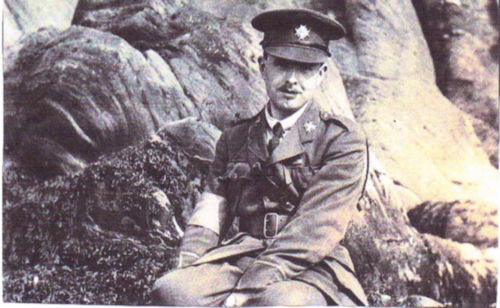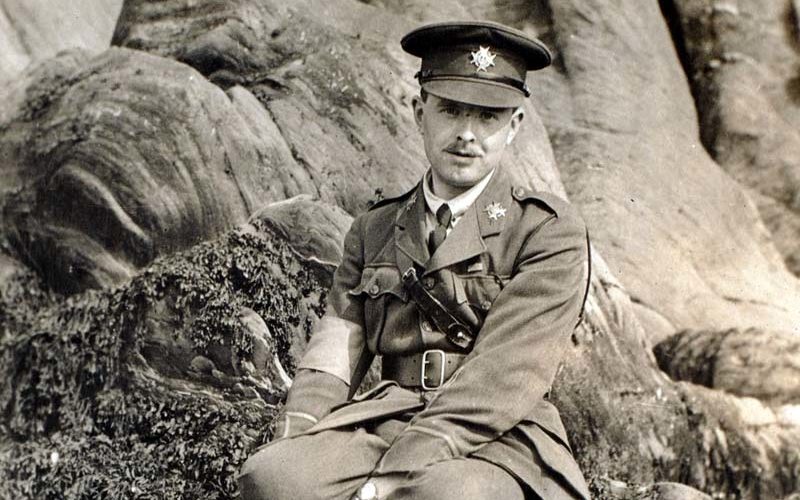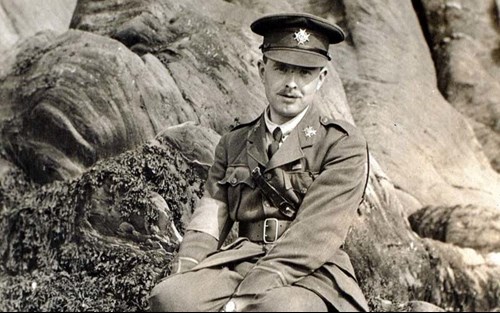 2nd Lieut Cyril George Edwards DSO 2/7th Battalion Prince of Wales Own (West Yorkshire Regiment). Recovering from his wounds at Ilfracombe in 1918
(Photograph reproduced from National Army Museum Archives)
Sources: 
[1] Gary Sheffield: The Chief Douglas Haig & The British Army  (London: Aurum Press Ltd) p. 143
Books: (Sheffield) The Chief Douglas Haig & The British Army (Lewis-Stempel) Six Weeks
(Naval & Military Press) The VC & DSO Book Volume III. National Archives (WO 374/22084)
Websites: National Army Museum (where most facts were obtained), BBC Schools World War One. London Gazette (Supplement 9th January 1918: page 562)